A complete guide for health insurance for foreigners in USA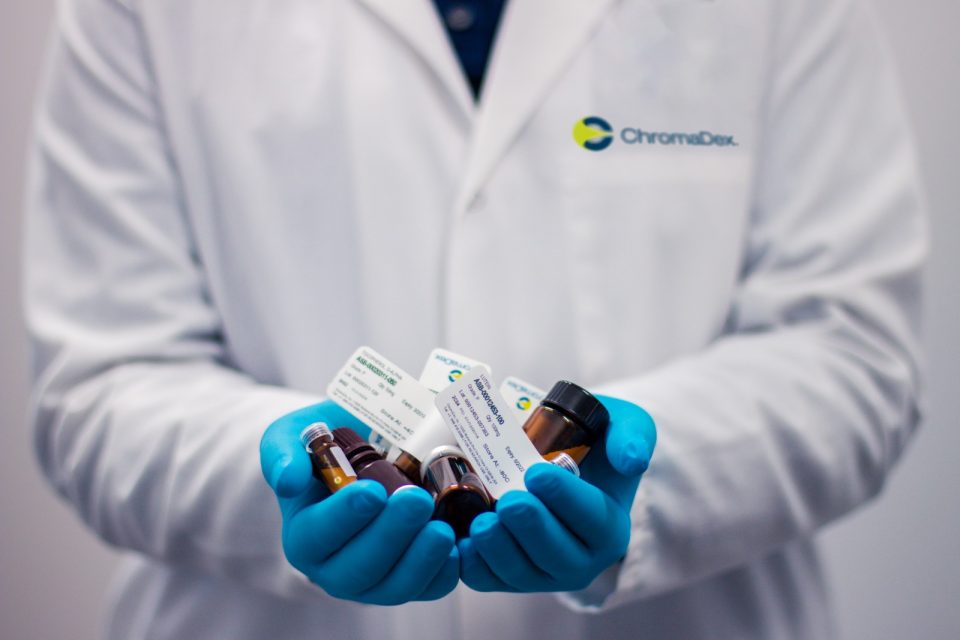 If you're planning to move to the USA, you must understand how the US healthcare system and health insurance for foreigners in USA works.
You may have just arrived in the US as a recent immigrant, temporary worker on a work visa (H1B, L1, etc.), or an international student. As a US Newcomer, understanding the US health care system can be intimidating and overwhelming.
The United States doesn't have a universal health care system like most other developed countries. Instead, the US health care system consists of a mix of employer-sponsored health insurance, government programs, and out-of-pocket payments by consumers.
Several private, public, and government-funded (federal and state) health care systems in the United States offer health care coverage to all citizens. These programs consist mainly of Medicare ( for older people and low-income retirees) and Medicaid (for the disabled and low-income people). Other programs include the Children's Health Insurance Program (CHIP) for children and TRICARE for military personnel and their families.
This article will explain the US medical insurance and health care system in detail, including how it works and how to navigate health care and health insurance coverage costs.
America's healthcare system in Comparison to Other Countries
According to the Organisation for Economic Co-operation and Development (OECD) statistics, US healthcare spending per capita is far greater than any other nation in the world.
For example, in 2019, the US spent ~17 percent of GDP (Gross Domestic Product) on healthcare, nearly double the average spending by any other OECD country.
However, this doesn't translate to better healthcare for Americans in comparison to other developed countries. For example, the US doesn't have universal healthcare coverage, which means many Americans are uninsured with no health insurance.
US Healthcare Spending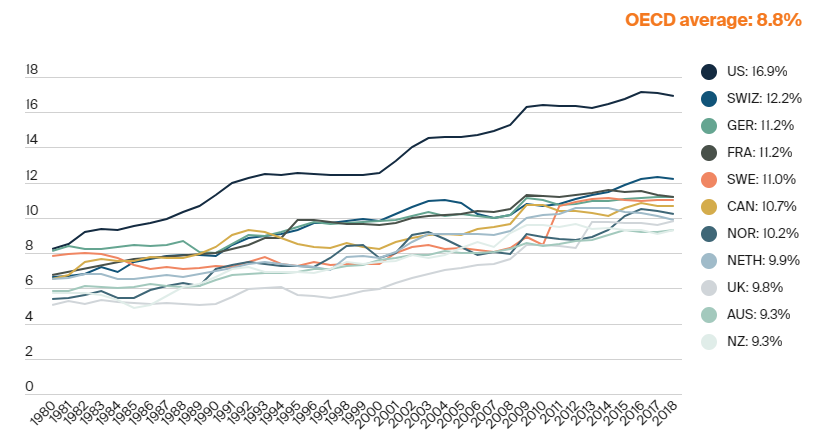 United States public spending is comparable to that of other nations; however, out-of-pocket and private spendings are more significant than in most other OECD countries.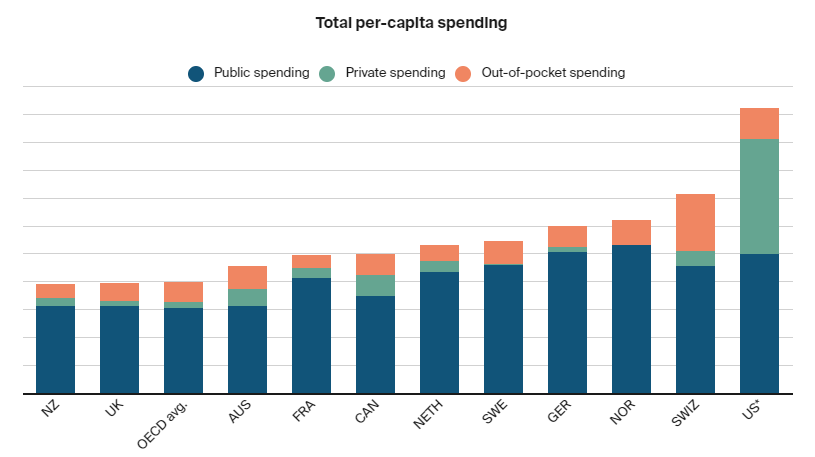 5 Things to know about the US health care system for New immigrants, Work visa holders, and International students
The United States has the most extensive and expensive health care system in the world. In 2019, 92.0 percent of Americans had health insurance that covered all or part of their medical expenses.
With that in mind, here are the basic five things you should know about the US health care system:
US spends more on its health care than any other country in the world (17% of GDP), yet it doesn't have universal coverage and many Americans remain uninsured with no health care coverage
US healthcare costs are pretty expensive, and you must obtain health insurance through your employer or school. However, if you're planning to buy your own, you can select an affordable health insurance plan that best suits your need from ACA's (Affordable Care Act) Health Insurance Marketplace. The Affordable Care Act (also known as Obamacare) provides subsidies to Americans who can't afford the high premiums charged by health insurance providers.
While the US has one of the best and advanced medical facilities available globally, the health care system has a lot of room to improve compared to other developed countries.
Your "primary care physicians" (PCP) will be your most significant source of medical care, and you should find and register with your PCP as soon as you arrive in the US.
You should seek advice from your primary care physician first if you have a non-emergency medical issue. To obtain medical care, you will generally need an appointment in advance for visits to your PCP (primary care physician) or any other non-emergency medical professionals.

How does the US healthcare system work for Non-US Citizens?
If you have just arrived in the US as a recent immigrant, temporary worker on a work visa (H1B, L1, etc.), or are an international student, understanding the US health care system can be intimidating and overwhelming.
Let's dive in to understand the intricacies of US healthcare from the perspective of a US newcomer.
The US health care system is a patchwork of public, private, and employer-based insurance systems and federal government programs such as Medicare and Medicaid.
Here are the different types of health insurance available to Americans and resident non-US citizens.
Private Health Insurance
In the United States, private health insurance is the most popular type of health insurance. In addition, the group market (primarily made up of employer-sponsored insurance) and the nongroup market (often known as the individual market), which includes plans bought directly from an insurer on and off health insurance exchanges, are parts of the private health insurance business.
In 2019, employer-sponsored health insurance served an estimated 179 million people (55.4% of the population of the United States). The individual markets served 42 million individuals (13.1% of the US population).
(Source: US Census Bureau)
Healthcare Covergae Distribution by Source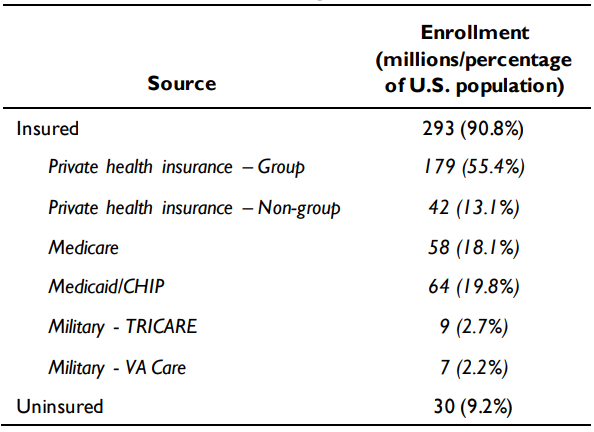 Medicare
Medicare is a federal health insurance program that provides health insurance coverage to individuals over 65, some younger people with disabilities, people with End-Stage Renal Disease.
The program has been in operation since 1965 and was signed into law by President Lyndon B. Johnson as part of the Social Security Act (SSA).
Medicare consists of four parts: A, B, C, and D.
Part A covers Hospitals, skilled nursing (after being formally admitted to a hospital for three days and not for custodial care), and hospice services.
Part B includes Outpatient services, including outpatient hospital costs, primary care physicians' office visits, and most professionally administered prescription drugs.
Part C or Medicare Advantage Plan is another Medicare health plan choice you may have as part of Medicare which private companies approved by Medicare offer.
Self-administered prescription drugs are the subject of Part D.
Eligibility criteria for Medicare health insurance coverage include patient's age or disability status and their relationship to specific programs such as the Social Security program.
In 2019, Medicare provided health insurance coverage to 58 million individuals (18.1% of the U.S. population)
Are foreigners or non-US citizens eligible for Medicare?
Even if you are not a US citizen but are lawfully present in the United States, you may be able to enroll in Medicare based on your circumstances.
Specifically, you may still be eligible for Medicare if you meet the following requirements: You qualify to receive or currently receive Social Security retirement benefits, Railroad Retirement Benefits (RRB), or Social Security Disability Insurance (SSDI).
Healthcare Expenditure (in billions) by Type and Source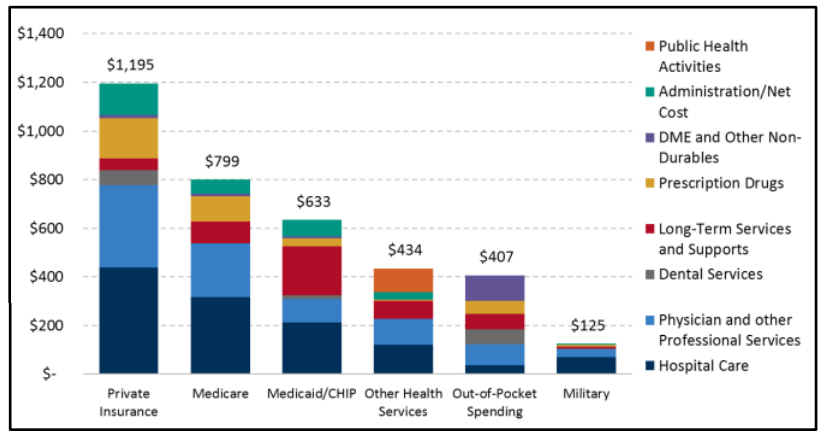 Medicaid
Medicaid is a program that offers health insurance coverage to low-income individuals and families with children, pregnant women, people with disabilities, and the elderly. The federal and state government jointly funds it.
Medicaid was created in 1965 as part of President Lyndon B. Johnson's Great Society reforms to provide more comprehensive health care benefits for Americans who could not afford health care expenditures on their own.
Initially, the program only covered welfare recipients and their dependents but was expanded to insurance coverage for other groups such as pregnant women and those receiving Social Security Disability Insurance (SSDI).
Currently, there are several different types of Medicaid coverage such as:
1) Regular (service fee) – Regular health insurance covers medically necessary services, including doctor visits, hospital stays, prescription drugs, eye exams or glasses, and dental care. Beneficiaries pay a share of the cost depending on their income, with low-income people paying less.
2) Children's Medicaid – CHIP (Children's Health Insurance Program) is a means-tested program that provides health insurance to eligible low-income children and pregnant women in families with no existing coverage. This type of insurance coverage covers children in families who have annual income above Medicaid eligibility levels but have no health insurance.
3) Medicare Savings Programs – This type helps low-income individuals pay for Part A and Part B of Medicare.
4) Medicaid Buy-In – This type is available for working people whose income is too high to qualify for subsidies on the health insurance marketplaces established by the Affordable Care Act (ACA).
5) Long-term health care – Medicaid programs also cover a portion of the cost for individuals who need long-term care. This includes nursing homes or other types of extended, ongoing medical needs. People can qualify in one of two ways: by earning income and having very little money in savings or by spending down their limited assets to meet the eligibility requirements.
People can apply for Medicaid by filling out a form with their state's department of social services. In 2019, Medicaid provided health insurance coverage to 64 million individuals (19.8% of the US population)
Medicaid for Immigrants and Non-US Citizens
Immigrants "qualified non-citizens" may obtain Medicaid and the Children's Health Insurance Program (CHIP) coverage if they fulfill their state's income and residency criteria.
Typically there is a five-year waiting period after receiving "qualified" immigration status before getting Medicaid and CHIP coverage. However, certain refugees or asylees are exempted from the five-year wait period.
As per the US Centers for Medicare & Medicaid Services, qualified non-US citizens include:
Lawful Permanent Residents (LPR/Green Card Holder)
Asylees
Refugees
Cuban/Haitian entrants
Paroled into the US for at least one year
Conditional entrant granted before 1980
Battered non-citizens, spouses, children, or parents
Victims of trafficking and their spouse, child, sibling, or parent or individuals with a pending application for a victim of trafficking visa
Granted Withholding of deportation
Member of a federally recognized Indian tribe or American Indian born in Canada
Citizens of the Marshall Islands, Micronesia, and Palau who are living in one of the U.S. states or territories (referred to as Compact of Free Association or COFA migrants)
What is the Affordable Care Act?
Affordable Care Act (or Obamacare) makes cheap health insurance available to more people by offering subsidies and expanding Medicaid.
The Affordable Care Act requires insurers to offer Essential Health care benefits coverage in every state, including ambulatory patient services; emergency services; hospitalization; maternity and newborn care; mental health and substance abuse disorder services including behavioral health care treatment; prescription drugs; rehabilitative and habilitative services and devices; laboratory services; preventive and wellness services including chronic disease management; and pediatric services including oral and vision care.
The Protection and Affordable Care Act was signed into law by President Barack Obama on March 23, 2010, to provide health insurance coverage for uninsured or underinsured citizens. This act allowed for the expansion of Medicaid eligibility, which offered free or low-cost health insurance coverage to millions of children and adults. The act also influenced creating private market reforms that rose the standards in health care services.
Can US non-citizens get Obamacare or use Affordable Care Act marketplace?
To be eligible to enroll in a health insurance plan through the Marketplace as non-US citizens, you:
Must live in the United States.
Must be legally present in the United States.
You can't be serving a term in prison.
As per the US Centers for Medicare & Medicaid Services, Immigrants with the following statuses qualify to use the Marketplace:
Lawful Permanent Resident (LPR/Green Card holder)
Asylee
Refugee
Cuban/Haitian Entrant
Paroled into the U.S.
Conditional Entrant Granted before 1980
Battered Spouse, Child, and Parent
Victim of Trafficking and their Spouse, Child, Sibling or Parent
Granted Withholding of Deportation or Withholding of Removal, under the immigration laws or the Convention against Torture (CAT)
An individual with Non-immigrant Status includes worker visas (such as H1, H-2A, H-2B), student visas, U-visa, T-visa, and other visas, and citizens of Micronesia, the Marshall Islands, and Palau.
Temporary Protected Status (TPS)
Deferred Enforced Departure (DED)
Deferred Action Status (Exception: Deferred Action for Childhood Arrivals (DACA) is not an eligible immigration status for applying for health insurance)
Lawful Temporary Resident
Administrative order staying removal issued by the Department of Homeland Security
Member of a federally-recognized Indian tribe or American Indian Born in Canada
A resident of American Samoa
All you should know about US healthcare as new immigrants
What is the role of government-funded programs (Medicare and Medicaid) in health care?
Medicare and Medicaid are government-funded health insurance programs that provide health care to citizens who can't afford it. The federal government pays for these health insurance plans, so people don't have to pay out of pocket and receive medical treatment through these subsidized programs. These programs assist citizens by providing free or low-cost insurance options.
What are considered out-of-pocket medical expenses?
Out-of-pocket (OOP) spending is the amount of money an individual or family pays directly to a doctor, hospital, pharmacy, and other health care providers for their medical expenses.
This includes copayments and deductibles, often required when receiving treatment from doctors and hospitals that participate in the patient's health insurance plan (or network).
What is the main difference between a deductible and a co-pay?
A deductible is a set amount that people must pay every time they see the doctor, fill their prescriptions, or go to the emergency room before the insurance covers anything else for them.
Co-pays are a set amount that people must pay every time they go to the doctor, fill their prescriptions, or go to the emergency room.
How to get health insurance for non-US citizens in the USA?
Non-US citizens can get health insurance through their employer (work) or school (international students). Some employers pay for the plan entirely, while others may only cover a portion of the cost and require you to pay the remainder.
If you don't have health insurance through your employer or work, you can purchase health insurance using the Affordable Care Act's health insurance marketplace.
What are typical healthcare costs for non-US citizens?
Non-US citizens who receive Employment-based insurance incur the partial cost or do not incur any health care cost if fully covered by the employer.
Suppose you're a non-US citizen who is not getting medical insurance from your employer or school. In that case, you can browse plans and estimated prices on ACA's website at any time, given you fulfill the eligibility requirements mentioned above.
How can non-US citizens obtain visitor health insurance?
Non-US citizens can purchase visitor or tourist health insurance through private medical insurance providers. Make sure to compare offers to find the best health insurance for tourists and short-term visitors.
In Conclusion
The U.S health care system is a mix of public and private industry, with the government playing an essential role in providing safety nets for people who can't afford to pay for their health insurance coverage or medical expenses. If you're planning to move to the US, understanding the US healthcare system is essential. With the US healthcare system evolving, it's necessary to know how non-US citizens can obtain health insurance and how you will pay for any medical expenses that might arise if you need US healthcare services.