Mortgage Closing Process: All You Need to Know About Your Closing and Closing Disclosure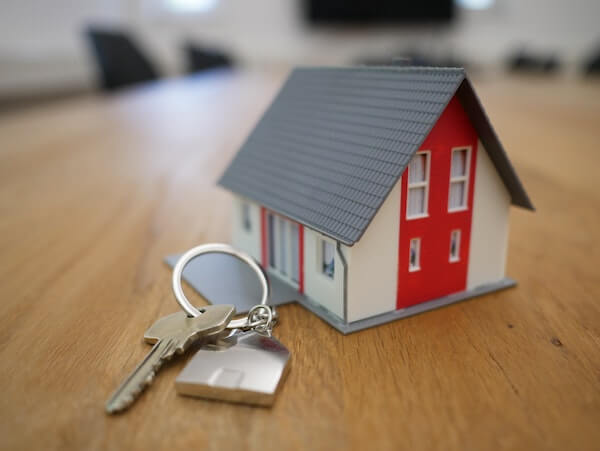 Your mortgage loan was approved, your house passed inspection, your belongings are packed and everyone is looking forward to moving day. All that's left is to attend your closing. You may be feeling excited and nervous about the mortgage closing process. If so, this blog post will help to answer all of your questions about it! We'll cover what is involved in a mortgage closing process from start to finish and provide some helpful tips on how to prepare for it as well.
We will also discuss the Closing disclosure document that your lender might have issued you prior to closing. This document provides consumers with information about their mortgage closing costs. It protects the consumer by providing them with all of the information they need to make an informed decision before closing on their mortgage loan. In this blog, we will discuss the mortgage closing process, how to prepare for your closing, and the Closing disclosure document issued by your lender.
When is a Closing Disclosure issued in the mortgage process?
Your loan officer should provide you with a copy of the Closing Disclosure at least 3 business days before you sign the mortgage loan documents at your closing. This document discloses the actual dollar amounts you will pay for the various fees and services associated with the closing of your mortgage loan. Typically, closing costs can be up to 3.5 percent of the loan amount, so it's important you ask questions and get documentation on these costs before closing on your mortgage loan.
What does a Closing Disclosure show?
Closing Disclosure is a document that provides consumers with the information they need to make an informed decision before closing on their mortgage loan. The Closing Disclosure contains the final terms of your loan, as well as the final loan charges that you will pay at closing. It includes all closing costs associated with your loan, such as origination fees and points paid to the lender for originating your mortgage, title search expenses and appraisals, closing costs, and an itemized list of third-party service providers. It also includes the total amount you will need to bring with you on closing day for your down payment as well as any lender fees that may be due at closing in addition to your mortgage balance. Make sure you compare the details on your Closing Disclosure to your Loan Estimate which was originally provided to you after your mortgage application. If the two documents show very different numbers, contact your loan officer immediately so any discrepancies can be resolved.
The Closing Disclosure also lists the date of the closing. In many places, the closing takes place at a title company or an escrow office. The escrow officer (a neutral third party in the transaction) will be able to answer general questions about the terms of your mortgage loan, but won't be able to give you legal advice. Some states require an attorney to be present at closing.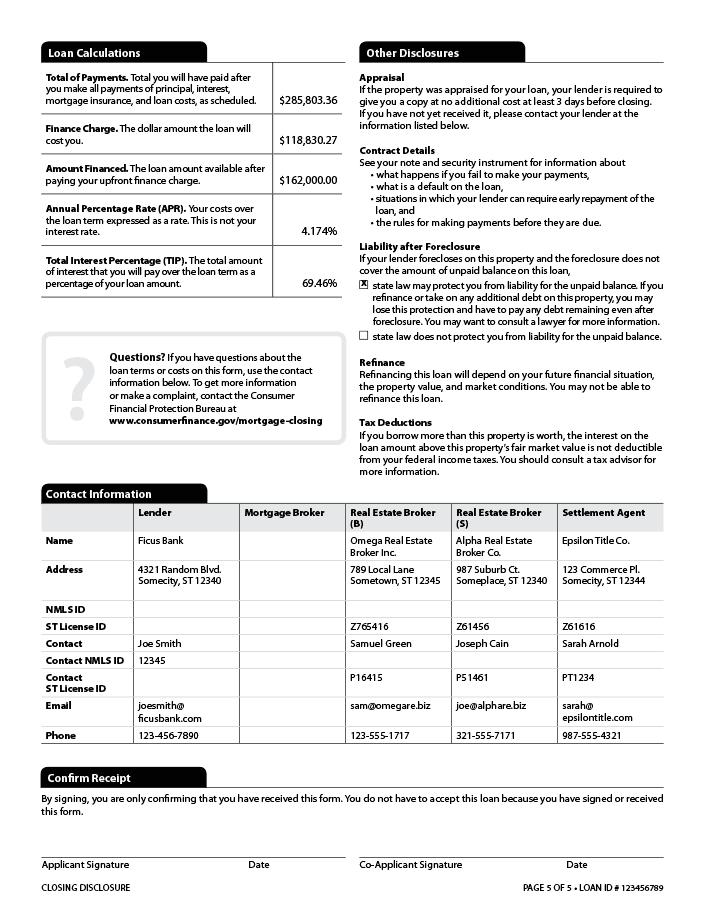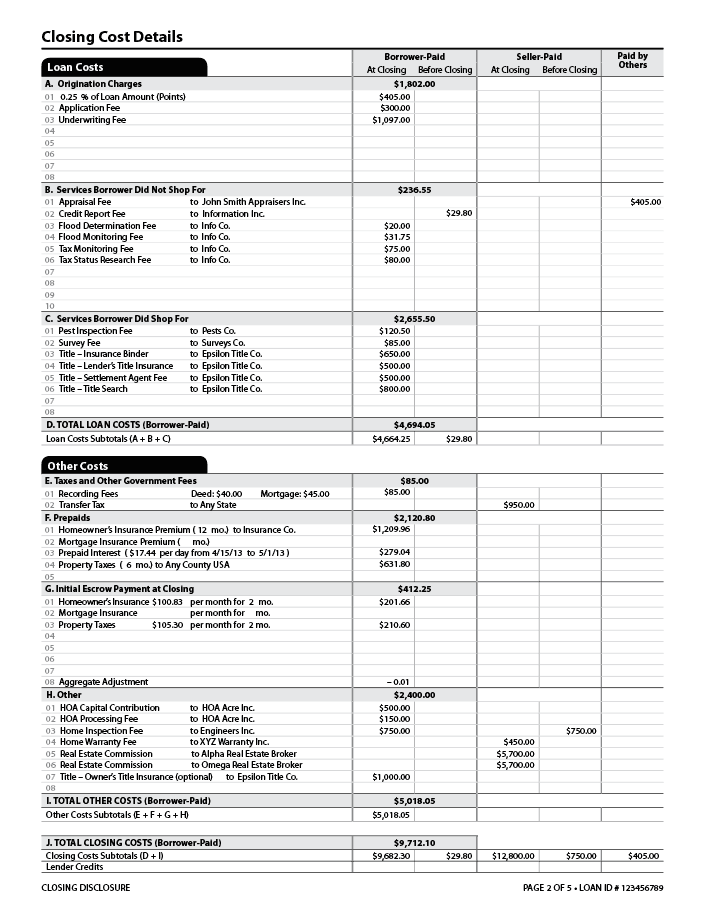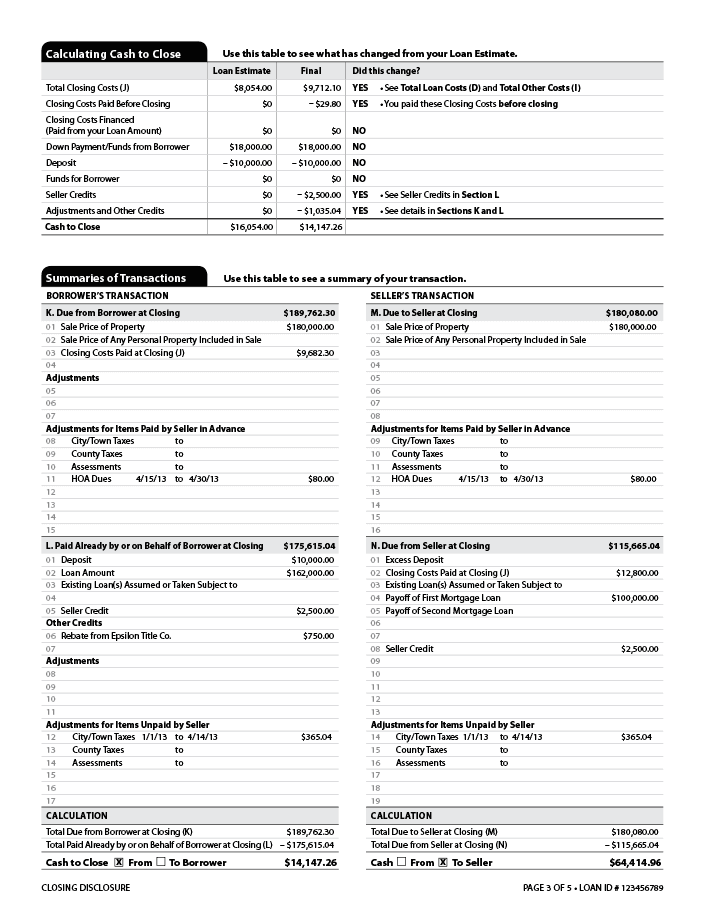 What is Mortgage Closing?
A mortgage closing is a meeting that involves all of the parties signing the final documents and legally transferring the property to you. There are costs and fees in this final step of which you need to be aware. Once you have signed the final documents at closing, you will be given your keys. Congratulations! The mortgage process is officially complete and you are now a homeowner.
What information do I need before closing?
Before signing a mortgage loan document, make sure you review the closing disclosure. Make sure your name is on the closing disclosure and that all information in the disclosures matches what's been discussed with you by your loan officer. Review closing costs such as origination fees and points paid to the lender for originating mortgage; title search expenses; appraisals; closing costs, including any lender fees that may be due at closing in addition to your mortgage balance. Ensure you have the total amount of cash needed for closing (down payment and any lender closing costs).
What do I need to bring with me on closing day?
On closing day, make sure you come prepared with a government-issued photo ID; social security card or tax ID number; current pay stubs, and bank statements (within 60 days) for the past three months, proof of homeowner's insurance.
Who is present at the mortgage closing?
You and any co-borrower (such as your spouse), if they are a party to the transaction
Escrow officer
Closing agent
The seller's real estate agent
Your real estate agent
Attorney (if you're in an attorney state)
What are the key documents to sign in the closing process?
Below are some of the key documents that you and any co-borrowers will sign during the closing process:
The Mortgage Note: The mortgage note is a legal document that provides evidence of the customer's indebtedness and their formal promise to repay the mortgage loan, according to terms agreed upon with the lender. These terms include the amount you owe, the interest rate of the mortgage loan, the dates when the payments are to be made, the length of time for repayment, and the place where the payments are to be sent. The note you get during the mortgage process also explains what could happen if you don't make your monthly mortgage payments.
The Mortgage or Deed of Trust: The mortgage is the security that protects lenders; when you sign it, you give them permission to foreclose on your property if you default. The mortgage or deed of trust states most of the information contained in the note. It also commits you to keep the house in good shape, insuring it and paying your property taxes on time.

The Deed: A deed is a document that transfers ownership of the property to you. It contains the names of the previous and new owners and a legal description of the property and is signed by the person transferring the property. The deed gives you title to the property, but the title is conveyed to a neutral third party (called a trustee) until you pay the mortgage loan in full. The closing agent will be responsible for recording this document so that it can be filed as part of your county's public records. You will receive a copy at closing and another copy after it has been recorded.

Affidavits and Declarations: Affidavits and declarations are statements declaring something to be true, such as the claim that a property will be your primary residence. You'll have to sign one or more of these documents at your closing.
What to expect at the closing table?
You will sign a promissory or mortgage note indicating that you have accepted the mortgage loan from your lender and agree to repay the amount borrowed, plus interest. You also will sign a security instrument that pledges your home as collateral for the loan. In some states, this document is a mortgage and in other states, it is a deed of trust.
At closing, your lender will transfer the money to the seller on your behalf. The seller will then sign the deed, transferring ownership of the property to you.
The title company or settlement agent will prepare all the documents and make sure that they are properly recorded.
Additionally, you will need to sign a number of affidavits and declarations. These legal documents spell out your obligations as well as your rights.
Helpful Tips for your Mortgage Closing
Following are some helpful tips for closing your home loan:
Before the meeting, read all of the documents that will be sent to you and make sure you understand them.
Don't be afraid to ask questions when something doesn't seem clear! Remember most people have a lot of questions about legal terminology so don't worry if it takes longer than expected.
The documents in the mortgage process are the same for everybody, regardless of ethnic origin, language, gender, or income. Federal law requires that you sign English language versions of all forms as your final, legally binding contract.
The day you close on your new home will be one of the most exciting and rewarding experiences in your life. You'll take pride knowing that for years to come, this house is yours; it's where you can raise a family with all its ups and downs–the good days, bad times, feeling safe when things are tough. Owning property isn't just about having shelter; there's something so great about investing part of yourself into not only an investment but also what becomes more than someplace—home!
Now that you understand the mortgage closing process, are you ready to get started? You can go ahead and start the pre-approval process for a foreign national loan.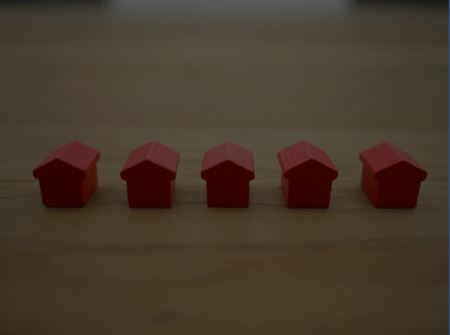 US Mortgages for Foreign Nationals & Expats
Get pre-approval for a US Mortgage as a foreign national buyer without US credit history